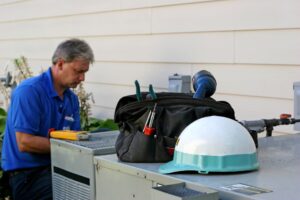 Getting a new air conditioner is exciting–the incoming relief from the heat, general comfort upgrade, and just having a new appliance in general can all get you excited. But the installation process? That isn't exactly thrilling.
You want the job to be done quickly (and properly) so you can get back to enjoying your home, but how long does air conditioning installation in Loveland, OH actually take? Let's answer that for you now.
Pre-Installation Appointments Are Necessary (and Save Time)
An installation already sounds like a drag of a process, and now we're telling you that you also need a pre-installation appointment? We know, it sounds like a lot, but there are a few good reasons for it.
Fitting Your New AC: An AC that's too small will struggle, and one that's too big will consume unnecessary power. Not to mention the sticker price will be bigger. Your technician needs to know what size your new AC should be.
Inspection: Your technician will inspect the old unit, the ductwork, electrical, and make sure there are as few surprises as possible on installation day. This lets technicians bring everything they need to get the job done, although it doesn't 100% guarantee that they won't find something else during the installation.
Timeframe: An AC installation can take one day or several–it all depends on complications during the process. A pre-installation appointment allows your technician to give you a more accurate timeframe for project completion.
It Can Take Longer if You're Switching AC Types
Going from central AC to a heat pump (which has an air conditioner function) isn't so bad. But going to a geothermal heat pump? There's a lot more to do than drop in the unit and connect it to the ductwork and electrical.
Depending on what types of air conditioning you're upgrading to, it could make the installation time take longer. That's one more reason why it's so important to get an accurate reading from your HVAC technician so they know how long the process will take.
So How Long Does the Process Actually Take?
In a scenario where you already have central AC, but the unit needs to be replaced, you can expect a four-to eight-hour installation window depending on issues discovered during a pre-installation appointment.
In an ideal situation, you'll have your AC installation appointment start at the beginning of the day, and end in the late afternoon. Sometimes you run into less-than-ideal situations or complications pop up, so accounting for those is important in your time estimate.
If you're installing central AC for the first time and you have no existing ductwork or vents, well, the timeframe just jumped up to anywhere from a few days to a full week. The type of project matters.
Time to Plan That New AC Installation
Now that you know how long it takes to install an air conditioner, and what happens during a pre-installation appointment, it's time to get the ball rolling. Talk to us today about installing your new air conditioner as soon as possible so you can get back to the things that matter–enjoying your home, family, and comfort at the same time.
Contact JM Mechanical Heating & Cooling today to schedule your AC installation as soon as possible.