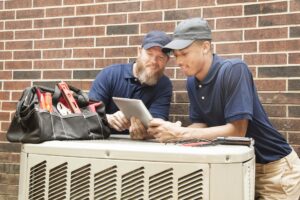 Have you ever called an HVAC company, but they don't call you back? Or scheduled service but then they fail to show up when they're supposed to? Maybe you've read some "rave" reviews online and decide to give the company a shot anyway, but it just doesn't work out the way you hoped for.
Getting AC repair in Loveland, OH shouldn't be a chore, but it is important to vet your list of potential AC companies as well as possible before you rely on anyone to complete your repair task. Let's talk about what a good AC company looks like so you know who fits the bill.
They're Not Pushy
You call for a quote. You specify exactly what you need, and you're sure of it. Some companies will take this time to sell you whatever they possibly can because they know you're currently in a state of urgency. This isn't a good look.
A good AC company will let you know about some products that may help you or make your situation better, but only if it makes sense for your home, budget, and family. We don't push products, especially if they wouldn't immediately benefit you and your specific needs.
They Communicate Clearly
It shouldn't feel like a feat for someone to communicate with you effectively and clearly, especially when it's a company that can help you restore your home comfort–a crucial part of your day-to-day life. A good AC repair company should be able to talk to you directly and make sure you have what you need without making it into a chore.
Clear communication could be timely responses to inquiries, calling or showing up when the technician says they're going to show up, and keeping you in the loop during a repair or installation appointment. A little bit of communication goes a long way.
You Found Them Through Word-of-Mouth
Word-of-mouth remains to be the biggest form of marketing there is for any company, especially air conditioner repair companies. If you've ever ended a Google search with "Reddit" before you hit enter, you know exactly what we mean. You want to hear unfiltered, honest recommendations.
Apart from the internet, the best place to find this is also through your friends and family. Even your neighbors would be a good way to find out which AC companies are good and which ones you should avoid. That's because we trust unbiased, unfiltered anecdotes and recommendations.
Why is that? Because you see an average of 8,000 advertisements per day on the internet–homeowners are sick of more ads; they want to hear genuine stories and experiences. That's why it's important to never skip this step when you choose a home AC repair company.
Your AC Deserves the Best
We're here to help your air conditioner get back to its former glory. Let's take a look at the problems you face with your AC and fix them as quickly as possible. It all starts with a phone call and an appointment.
Contact JM Mechanical Heating & Cooling today to schedule your AC repair as soon as possible.