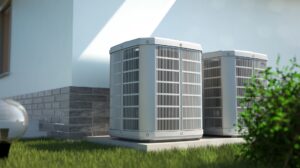 Another one bites the dust–that old AC has lived a long life, served your family well, and now it's time to go. Now that you're ready for a new one, you need to know what the installation process looks like.
If you're a first-time homeowner and you've never been through air conditioning installation in Middletown, OH
Home Visit (Pre-Installation Appointment)
During a pre-installation appointment, HVAC technicians will determine what size AC unit you need before narrowing down which types are available to you.
This step is crucial because installing an overpowered or oversized unit can be a bad thing. Sure, your house will be like a freezer if you want it to be, but your energy bill will suffer.
If a unit is too small, it will struggle to cool your home and require more runtime. That ends up costing you more money and spends the "wear and tear budget" on your AC faster than it's supposed to.
Having an appropriately sized system is important for longevity and efficiency. Once that step is done and your HVAC technicians know how to proceed, they'll inspect your current unit, ductwork, and the slab that your outdoor unit rests on.
Removing the Current Unit
Time to put that old AC out to pasture. Technicians detach the old unit, make sure the connections are good, and haul it away.
From that point, they'll inspect what current connections are still viable, such as electrical wiring and ductwork. It's not uncommon to replace wiring when there's a new unit installation since it's likely as old as the previous AC was.
Setting up the Outside Pad and Unit
Your air conditioner cabinet sits outside, and it rests on a concrete pad right up against your house. The reason for this? If it wasn't there, your cabinet could sink into the ground.
If you already have a pad, HVAC technicians can usually tell if it'll last long enough for your new cabinet to be put on top of it. If not, they will mention it during the pre-installation appointment.
Pouring concrete for a new pad increases the time it takes for an installation, though sometimes it is necessary. They'll discuss this with you early on.
Hooking Up and Testing the New Air Conditioner
Everything is in its place and all connected, so now it's time to see if it works as planned. Your technicians will run the new AC, test everything possible, and make sure it's functioning properly.
This includes testing the temperature, how much power the unit is drawing, and more. If it's all good to go, they'll clean up the installation area (dust, debris, and any tools) and be on their merry way so you can enjoy your new AC.
It's Time for a New Air Conditioner
Now that you know the steps that happen during an installation, the process is less daunting. You don't have to be nervous about the steps it takes to get that new AC installed–your new air conditioner is a one-day installation away.
Contact JM Mechanical Heating & Cooling today to schedule your AC services as soon as possible.