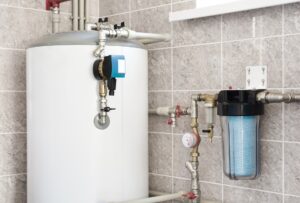 That water heater has served you well for years, but now it's showing signs of age. They're not cheap to replace by any means, so you want to repair it and get as much life out of it as possible. Anyone would.
But is that the best idea? There's no way to tell exactly how much a repair will run you through this blog post. Only water heater repair in Middletown, OH can help with that–when certified technicians come to your home and test it. But we can help you get a decent scope of reference before you call anyone.
Here's how you can tell if your water heater is worth saving or if it needs to be replaced.
If Your Water Heater Is at Least 10 Years Old
It's likely on its way out. They have 10-15 years on them, and we know that five years is a long margin of error, but it completely depends on external factors that aren't being measured on a constant basis.
How hard is the water? How frequent is maintenance? And sometimes, the manufacturer just isn't the best and your water heater doesn't last. The point is, there are many factors that play into your water heater's longevity besides age.
If Your Heating Bill Is Soaring Through the Roof
You pay to heat that water, but what happens when your water heater is so inefficient that it ends up costing you extra money? That's a signal that it's on its way out for sure.
Your bills are steadily rising, and you can rule out other factors in your home. It leaves the water heater, and it needs to be inspected by a technician to know what the problem really is.
Sharp spikes in your energy bill are indicative of a problem with one of your home appliances. If you can rule out other major appliances, it only leaves the water heater.
You're Facing the 50% Rule
This works with air conditioners, furnaces, and even water heaters. The 50% rule dictates that when a repair bill for your water heater is 50% or greater than the cost to simply replace the unit with a new one, it's time to go ahead with the replacement.
This is because the repair bills aren't going to shrink over time. There's a certain level of wear and tear that can't be fixed with tune-ups because technicians can't replace factory conditions within your home. Eventually, that water heater may just be done for.
Replacement Vs Repairing
Figure out the costs and find out if it's truly worth it to repair that water heater. If your water heater is less than 10 years old and you've been keeping up with maintenance, it should have a fairly long life left, but there's no way to know it without an inspection from a certified technician. If you suspect your water heater is causing you trouble, give us a call.
Contact JM Mechanical Heating & Cooling today to schedule your water heater repair as soon as possible.