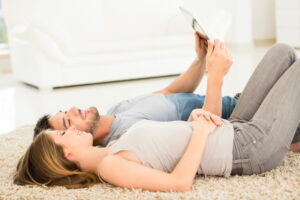 You're looking for a new air conditioning system. You want one that isn't going to take up too much space, that will work efficiently, and that might give you some other perks too.
What may fit your needs perfectly is a heat pump.
Thanks to technological advancements, heat pumps in Cincinnati, OH are becoming increasingly popular—and for good reasons.
What Makes Heat Pumps Unique
Heat pumps are also known as heat pump mini splits. While these systems use a similar set-up as a standard split system air conditioner (an indoor unit and outdoor unit), there is a lot that makes these systems unique.
For starters, heat pumps can offer side discharge options which allows their outdoor units to be made much smaller than other AC units. Combine that with the space-saving air handler that serves as the indoor unit and you get a lot more floor space back.
On top of that, heat pumps are made to operate as efficiently as possible. Some models can offer SEER ratings well up into the 20s, saving you hundreds on your annual bills if you are upgrading from an older model.
Heat pumps also have great HSPF ratings too, which is great to know since they can serve as both heaters and air conditioners.
The Perks of Heat Pumps in a Modern Home
Heat pumps are unique and that allows them to offer some great benefits to the people that install them in their homes. These benefits include:
Year-round comfort: Heat pumps can reverse their flow of refrigerant, which allows them to offer both heating and cooling to a home. This means that, rather than getting and installing two systems, you only need to get one for comfort all year long!
They are space-savers: Heat pumps can be great for anyone who doesn't have a large amount of space for an AC unit. Thanks to the ability to use a side discharge set-up, a heat pump can be used even for homes with zero lot lines.
All-electric: This is especially helpful for anyone trying to stop their use of natural gas. Heat pumps use electricity to do their job which means that you don't need a natural gas hook-up to enjoy a warm home.
They can be ductless: Are you trying to find a good comfort system for a home that can't accommodate ductwork? Great news, heat pumps can be ductless too! Talk to a technician about installing a ductless mini split heat pump today so you can ditch the window AC.
Ready for Your Installation?
If you are in the market to get a new air conditioner in your home, then a heat pump mini split can be a great solution to your needs. As we've shown above, these systems can be advantageous in a lot of different ways. The key thing to remember is that these benefits will really only apply if you have your system installed by a professional.
Come to JM Mechanical Heating & Cooling for your system installation. We are always F.A.R.E: Fast, Affordable, Reliable, and Easy to work with.