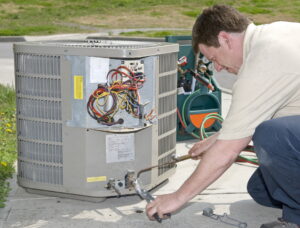 The process of air conditioning installation in Cincinnati, OH has a lot of steps to it. We like to think it's linear, but there are so many opportunities for issues to arise during the installation process. That's why it's important to keep your eyes peeled for any problems that could pop up, so you can stamp them out before they become a major problem.
With good HVAC technicians who care about your home comfort, these problems are fixed promptly and professionally. Either way, it's still good to know what they are as a homeowner so you can know what to expect, and maybe even monitor the situation during your next AC installation. Here's what you need to know.
Bad Drainage System Installation
Your air conditioner needs to get rid of excess moisture that it collects from the air and through its normal processes. For this, it has a drip pan that fills up with water, then it runs down a drainage line, and the line emerges as a tube from your AC cabinet. It pulls the water away from your home so it doesn't pool around the cabinet.
But if it's installed incorrectly, that moisture can and will pool around your air conditioner before you know it. It can not only rust the metal of the cabinet, but it promotes mold and mildew growth in the condensate drain line.
That turns into a clog before long, then your AC can't even dispel water. It fills the line and backs up into the air conditioner. Now the problem gets worse, all because the system wasn't installed properly and allowed water to pool up.
Air Duct Problems
You'll have a pre-installation appointment to make sure your existing ductwork and electrical wiring are ready for a new air conditioner to be installed. Sometimes it isn't, and wires need to be switched out, or ductwork has gone bad.
However, a pre-installation appointment isn't perfect. There are some issues that may not present themselves or be visible until the old air conditioner has been removed. Normally issues can be seen ahead of time, but it's important to not rule out this possibility.
The Thermostat Isn't Placed Correctly
Your thermostat is placed strategically. It has to read the temperature of the air, then send a signal to the AC to either turn on or off. The placement matters because if it's just stuck in one corner room, it's not going to accurately read the temperature of the living room on the other side of the house.
Thermostats are supposed to be placed centrally so they can take an even temperature and gauge the comfort level in the entire house. If you're getting a new thermostat installed, keep an eye on this.
Reduce Issues With the Best HVAC Company in Cincinnati
You deserve an HVAC installation company that values your peace of mind and comfort above all else. That's what you get with us. Call us today to talk about your next air conditioner installation and we'll help you hammer out all the details so we can get started.
Contact JM Mechanical Heating & Cooling today to schedule your air conditioner installation as soon as possible.