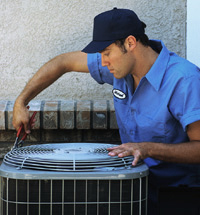 Keeping your air conditioner in the best possible condition should be a priority whether you are heading into summer or about to wrap up. After all, random heatwaves are a thing, especially with the wild changes we've been seeing our climate exhibit.
What's more, keeping your AC in good condition will help keep your budget more stable, which is especially important in the face of inflation.
We want you to take a moment to think about how well your air conditioner has been working lately. And if that thought worries you, then we need to talk! Our team can help you with just about any AC repair in Loveland, OH that you might need.
Read on to learn more about how we can help your system so you know when to reach out.
Why Get Service ASAP
Before we dive into what we can do for your air conditioner, we want to give you a quick explanation of why we want you to have prompt repairs at the forefront of your mind.
For starters, an AC replacement isn't cheap and it is getting more costly thanks to the impact of inflation on the cost of new systems. The truth is that skipping a needed repair can increase the risk of needing a new system. That's why it literally pays to get repairs ASAP.
On top of this, a well-taken-care-of system will be more efficient, keeping your energy bills more manageable without requiring you forego using the system when you need it the most.
What You Can Trust Our Team to Handle
Now that you have a better understanding of why you are better off getting repairs taken care of quickly, we want to tell you more about what you can trust us to do for you.
We can identify and resolve odd sounds: If you hear any rattling, clanging, screeching, hissing, or other sounds that are concerning, it is time to call for repairs. We can identify the cause of the sound and come up with a proper solution to resolve it, whether that's replacing a fan blade or tightening a bolt.
We can patch refrigerant line leaks and refill refrigerant: A refrigerant leak is a serious problem for your air conditioner. We can find the location of the leak on your line and then provide an effective patch that stops any more refrigerant loss. We won't stop there though—we will also make sure that your AC's refrigerant is recharged to its factory level.
We can clean off a dirty evaporator coil or thaw a frozen one: If there is dirt or ice coating your evaporator coil it will impede your system's ability to cool the air. That's why you'll want to contact us to clean any debris off the coil or to thaw it out if it is frozen.
We can identify and resolve the cause of short cycling: Short cycling is both an indicator of a problem and a cause of more. Our team can identify the cause to prevent the added trouble.
Need help with your AC? Reach out today to save you time and money later.
Contact JM Mechanical Heating & Cooling to book your AC repairs. We always answer the phone, 24/7.