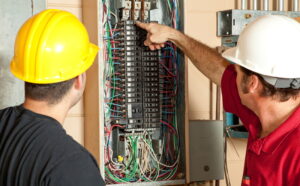 What would happen if one electrical appliance suddenly got a flood of excess energy to it? The result would likely be a lot of damage. On the other hand, too little or no energy reaching a certain appliance can result in a system that doesn't function at all.
These examples may be general but they offer a clear view of the importance of your electrical panel. Your panel is responsible for the distribution of electricity throughout your house. Without it, nothing would function properly.
So what happens when your panel isn't working right anymore? Chances are high that electrical panel issues are an indicator that you need to schedule panel repair or replacement electrical services in Cincinnati, OH.
Signs That Something Is Wrong With Your Electrical Panel
The electrical panel for your home is highly important to every electrical appliance you own, from your phone's charging cord to your air conditioner. Just like the other systems in your home, these panels can encounter problems that require service to resolve. Here are the signs that your panel is in trouble.
You notice flickering lights. If your electrical panel has trouble evenly or reliably distributing electricity in your home, it may result in flickering lights throughout the rooms.
You battle frequent circuit trips and power surges. When there is too much power, known as a power surge or voltage spike, headed into one appliance, the circuit for that appliance may trip to prevent damage. Frequent surges and trips can indicate bigger issues with your electrical panel.
There is damage to the panel. Maybe you can see burn marks on your electrical panel. This can be a sign of a problem in the electrical system.
When to Opt for an Upgrade
If you've noticed problems with your electrical system, it is a good idea to reach out to talk to a professional electrician ASAP. Here are some signs that you may need to schedule an electrical panel upgrade when you get into contact with a pro.
Your panel is nearly 20 years old or older. Make sure to take time to discover how long your current electrical panel has been in use. No panel runs forever, after all. An electrical panel that has been serving a modern home for 20 years or more is one that is likely to need to be upgraded.
You still have a fuse box. If you don't have an electrical panel yet and have been getting by with a fuse box, we strongly advise upgrading to an electrical panel.
Your panel can't keep up with electricity demands. Older or newer, if your panel can't keep up with the electrical needs of your home, it means it is time for an upgrade to a panel that can offer more amps.
Whatever may be going on with your electrical system, it always pays off to work with a professional electrician to get things back into proper working order.
Come to JM Mechanical for service from a team that is F.A.R.E: Fast, Affordable, Reliable, and Easy to work with. Contact us today to book your appointment.