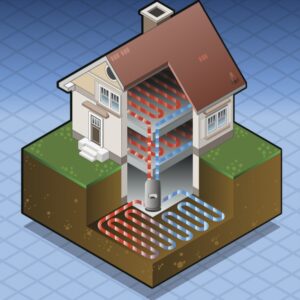 Have you ever heard of a geothermal system?
These systems are efficient, effective, and eco-friendly. As we battle with climate changes, it becomes more and more important to keep your home comfortable. However, you don't want to do that at the expense of the environment. A geothermal heat pump provides you with the best way to achieve both comfort and environmental friendliness.
If a geothermal heat pump sounds like a good fit for you, now is a great time to come to us! Read on to learn more about these systems and then reach out to JM Mechanical Heating & Cooling for your geothermal system installation in Cincinnati.
How a Geothermal Heat Pump Gets the Job Done
Geothermal heat pumps operate by moving heat, which is a simple description of a complicated process.
In more detail, your geothermal system uses refrigerant or a mix of antifreeze and water that is circulated in a closed-loop system to either pull heat out of your home or pull heat into it. When your system circulates this substance, it is able to use the stable temperatures in the earth's crust to regulate the temperature in your home.
If things are too warm, the system pulls heat out of the house and uses the ground as a heat sink to deposit that warmth. Then the heat pump portion of the system distributes the cooled air throughout the house.
The Benefits of a Geothermal System
As you can guess, a geothermal system can offer some incredible benefits to you, your wallet, and the environment. These benefits include:
Reliable heating and cooling: Your geothermal system serves as your one-stop-shop for your home comfort. It can heat your home in winter and cool it in the summer. It does all this while also providing…
Great energy efficiency: Compared to the use of a central AC and furnace, this system can save you a lot on your energy bills. There is no fuel or energy that goes to waste, which translates to…
Incredible environmental friendliness: Geothermal systems work with the earth, not against it. Because of their high efficiency, they require less energy to run. Their method of temperature control keeps you comfortable while doing no harm to the planet.
Oh, they last a long time too: We can't forget to mention their longevity! Yes, installing a geothermal system is a costly endeavor, but it is one that can benefit you for over 25 years. Geothermal underground loops only need to be replaced, on average, every 25 years. The heat pump of the system may need to be replaced sooner but will still last far longer while used with a geothermal setup.
You Can Trust Us With Your System Installation
Ready to invest in a geothermal heat pump system for your home? If so, reach out to our team today. We specialize in working with geothermal systems and we promise to get your system installed properly so you can sit back and enjoy a comfortable home all year long.
Schedule your system installation with JM Mechanical Heating & Cooling. Proudly serving Cincinnati since 2010.