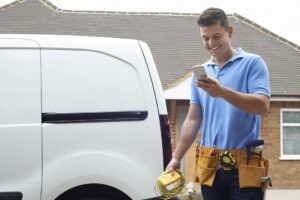 Something goes wrong in your house, and you first look up a DIY guide before you even think about calling for an electrician in Montgomery, OH. We get it–but sometimes problems aren't so straightforward and they require an experienced technician to handle them properly. Here are all the reasons you need to hire a professional instead of taking the DIY warrior approach.
Because Safety Comes First
Your safety should be your number one priority, as it is ours. The fact of the matter is that an electrical project that includes live electricity from your home's source is extremely dangerous and could be potentially fatal. It's best to prevent these possibilities by calling a professional with the knowledge, training, and tools to handle this dangerous task for you.
There Could Be Code VIolations
Even if you handle an electrical problem yourself, you could break multiple codes in the process. These code violations could get in the way of your insurance coverage by nullifying your policy. If you read the fine print, it's not uncommon to see that home insurance providers want work to be handled professionally and up to code.
While this sounds like an unlikely problem, wouldn't it be better if you did run into a problem such as claiming damage from an electrical fire, that you knew there was no way you could be denied due to code violations? Insurance companies will sometimes try to find a way not to pay what you're owed, but breaking these codes is a surefire way to shoot yourself in the foot in the future should a problem arise.
It's Less Efficient to Do it Yourself
What's your time worth? Ask yourself, because even professionals can run into snags that cost them extra time, but they're always going to be quicker than taking a DIY approach. That not only means that you'll have a quicker solution to your electrical problem, but you won't have to spend any time fixing it.
Avoiding Device Warranty Problems
Your blower motor dies in your AC. A new one needs to be installed and wired up. Did you know that you can void the manufacturer's warranty by doing this?
Manufacturers state that they want maintenance and repairs to be carried out by professionals who certify their work. If that's not how your machine is repaired, it can nullify your entire warranty, leaving you in the dark if a manufacturer-related problem does cause damage or a complete breakdown in the future.
Never Handle Home Electrical Problems by Yourself
With our team on your side, you never have to worry about tackling home electrical problems ever again. We know how stressful it can be when something goes wrong with your electricity, especially since it's often a problem that you can't see. It's time to stop worrying and call the team that all your neighbors trust to get the job done.
Contact JM Mechanical Heating & Cooling today to schedule your electrical services as soon as possible.