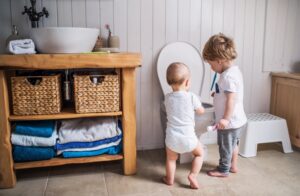 There are few systems that get more abuse than your home's plumbing during the holiday season. We aren't saying anyone sets out to be rough with their plumbing! But this is a time when we see more large gatherings, heavier use, and more mistakes occur in most homes throughout the area.
The last thing you need is a stopped toilet or leaking pipe ruining your family dinner. That's why we want to help you out by helping you prepare.
After many years in the industry, we've seen what can happen during the holidays. With that knowledge, we put together some helpful tips to hopefully allow you to avoid some of the common issues that occur during this time of the year.
5 Tips To Help Prep Your Plumbing
Before your guests arrive, make sure to keep these tips in mind to help protect your plumbing and prevent issues that might ruin your next gathering.
Make sure young kids can't access toilets unattended: We know that those kids are a joy to have visit, but they aren't always a joy to your plumbing. Having the wrong thing go down the toilet can lead to overflow and other issues. If you have toddlers or other small children around, we'd advise keeping doors closed or placing child locks on the toilets themselves.
Remember what can and can't go down a garbage disposal: A garbage disposal isn't meant to handle every single thing you might throw down the kitchen drain. It is good to know what can and cannot be washed away. A good rule of thumb to remember is that, if you can't chew and swallow it, then it probably shouldn't go down your garbage disposal. This includes items like bones, gristle, fruit rinds, fruit or vegetable pits, and more. These items can end up destroying your garbage disposal and burn out the motor.
Stop fats, oils, and grease from entering your drains: These substances flow down the drain easily but we'd suggest you try to keep them out. Once fats, oils, and grease, also referred to as F.O.G. enter your drain, they harden into a sticky solid that can lead to clogs in the near future.
Schedule drain cleaning to prevent clogs: Getting a plumber to perform drain cleaning before things kick off can help you avoid a lot of trouble. This is because this service gets right of the debris that is coating your drain line, preventing a clog from occurring when you least need it. That means that you can enjoy food prep without stress … well, without the stress of having your drain back up on you that is.
Have our information on hand for plumbing emergencies: Even with all the knowledge on hand, issues can and will pop up. That's why it pays to have our number on hand, even during the holidays. We are here to help with all kinds of problems, from a stopped toilet to a leaking pipe.
Whenever you need expert plumbing service in Loveland, OH you can count on our team. Contact JM Mechanical Heating & Cooling to schedule your next visit from a plumbing pro.